July 16 is Artificial Intelligence Appreciation Day! Every day, we're grateful for our data annotation workforce's role in training and refreshing artificial intelligence (AI), machine learning, and computer vision solutions with high-quality labeled data.
Today, we celebrate past and present clients gracious enough to share insights about the challenges of scaling data annotation, what led them to CloudFactory, and the value they received from our work on their data.
If you're an AI innovator, we hope these stories inspire you and help you make informed decisions about outsourcing data labeling work and selecting skilled data annotation partners to accelerate the development—and maintain the efficacy—of your AI solutions.
Meet a few AI companies we admire and support
Pathr.ai helps retailers understand shopper behavior to improve sales and operations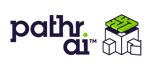 Pathr.ai™ is the industry's first and only AI-powered spatial intelligence platform. It uses feeds from a company's existing infrastructure—think surveillance cameras and sensors—to capture human behavior and interactions anonymously, and deliver actionable insights about staffing, retail merchandising, and security. CloudFactory helps provide data annotation and camera calibration at scale so Pathr AI can focus on significant product development. Read Pathr AI's case study.
Sartorius develops the world's largest open-source database of annotated cells for medical research

Sartorius supports biotech scientists and engineers as they develop and manufacture medicines for incurable diseases. Sartorius helps the biopharmaceutical industry bring improved medications to patients quickly and safely by simplifying workflows, enabling faster research, and reducing human error. CloudFactory helped the company develop an open-source dataset of more than 5,000 images—1.6 million individually annotated cells—published in Nature Methods. Read Sartorius' case study.
Luminar takes autonomous vehicles to new distances with expert 3-D annotation

Luminar is an autonomous vehicle sensor company with the vision to make autonomy safe and ubiquitous by delivering the only LiDAR perception platform that meets the industry's stringent safety and economic requirements. Our team supported data annotation for the launch of Luminar's sensor product, Hydra, and met high accuracy standards for the training dataset. Read Luminar's case study.
Driver Technologies protects the world's motorists and supports transportation innovation

Driver Technologies provides a free mobile app for individuals and rideshare, delivery, and commercial drivers. The app includes GPS navigation, trip recording, AI-driven collision alerts, and more. CloudFactory annotated the anonymized roadway image and video data to help Driver deliver an extensive database for developers of autonomous vehicle, insurance telematics, and ADAS models to improve their products and accelerate development. Read Driver's case study.
Hummingbird Technologies farms for the future with precision data labeling

Hummingbird Technologies provides crop analytics through machine learning algorithms applied to remote sensing imagery captured by drones and satellites. They help customers increase crop yields, optimize inputs, and sustainably farm. Hummingbird has created 70 different machine learning-based products. Our team looks at drone images of fields, labeling different crops based on size, health, and other factors to build new and updated datasets for Hummingbird's products. Read Hummingbird's case study.
Matterport helps customers create interactive 3-D digital construction and real estate models

Cortex, Matterport's powerful deep learning neural network, automatically stitches images together from various devices—including LiDAR and 360-degree cameras, drones, and smartphones—to construct dimensionally accurate 3-D models for construction and real estate. CloudFactory supports Matterport with 2-D image labeling to train and refresh models. Read Matterport's case study.
AMP Robotics makes recycling easy with reliable annotation quality control

AMP Robotics is a leader in the recycling technology industry, building AI-based robotics systems that sort recyclable materials and waste at a fraction of the cost of current technology. AMP's technology recovers recyclables from municipal waste, precious commodities from electronic waste, and high-value materials from construction and demolition debris. They turned to CloudFactory when growth outpaced internal capacity to annotate quality data. Our managed workforce led quality control efforts for AMP's data labeling efforts while supporting model outputs and defining new segments. Read AMP Robotics' case study.
Sylvera makes sure carbon-offsetting projects live up to their claims

Sylvera's founders saw how complicated carbon-offsetting projects could be and how difficult it was to get up-to-date data on the climate impacts those projects promised. Bringing a new layer of transparency to the sustainability market, Sylvera assigns ratings to carbon sink projects, similar to what S&P Global Ratings and Moody's do for debt issuances. CloudFactory helped annotate satellite and spatial data to train and develop custom project monitoring models. Read Sylvera's case study.
Nearmap transforms maps into digital gold for city planners, insurance underwriters, and more

Nearmap, a global technology pioneer, provides easy and instant access to up-to-date and historical geospatial data. It uses proprietary technology to capture high-resolution aerial imagery of urban exteriors, providing data-rich virtual tours across rooftops, buildings, and other location features, all at a massive scale. CloudFactory has delivered 300,000+ hours of annotation work to help Nearmap focus on innovation and growth. Read Nearmap's AI case study.
Geckomatics expands affordable mapping with high-quality data annotation

Geckomatics' proprietary mapping camera and AI model help cities create regularly refreshed digital inventories of everything from potholes to traffic signs and trees to bridges. Consider a city that must insure each tree within its limits. City governments could turn to Geckomatics inventory for an accurate count or count trees manually. The latter approach is prone to errors and time-consuming, which could mean paying too much. Using Geckomatics' tool, our team annotates user-captured images; we also perform quality control checks on images labeled by the model. Read Geckomatics' case study.
More than 600+ companies have trusted us to annotate and process their data so they can deliver computer vision, machine learning, automation, and other high-quality, data-fueled solutions to the global market. To reach their potential, each of these innovative companies needed help scaling data annotation to relieve the burden on their data scientists and other internal experts. When you're ready to accelerate innovation, lower costs, and quickly move products into market, we'll be here, ready to tackle your AI data annotation work.
Want to learn more? Explore our computer vision services. Want to talk with a data advisor about your data labeling project? Launch live chat now.
Video Annotation Data Labeling AI Strategy Computer Vision Image Annotation Healthcare AI & Machine Learning Retail Transportation Agriculture Data Annotation Autonomous Vehicles