The future of how businesses get work done is at a tipping point. The days of overinvesting in routine, back-office tasks are coming to an end. While this work is often critical for success, it can also be very distracting. Simply put, there are much smarter ways to get this work done. A new trend is emerging that enables businesses to connect to previously untapped talent across the globe who consistently provide high quality results at lower costs.
The driver of this disruption? Cloud-based workforce virtualization platforms that automate tasks, monitor worker reputation and manage quality in a way that scales. Yet, as much as we love technology (and at CloudFactory we LOVE technology), the difference truly lies in the quality of talent on the other end of the platform. Without smart people working in partnership with smart technology, you've only solved part of the problem.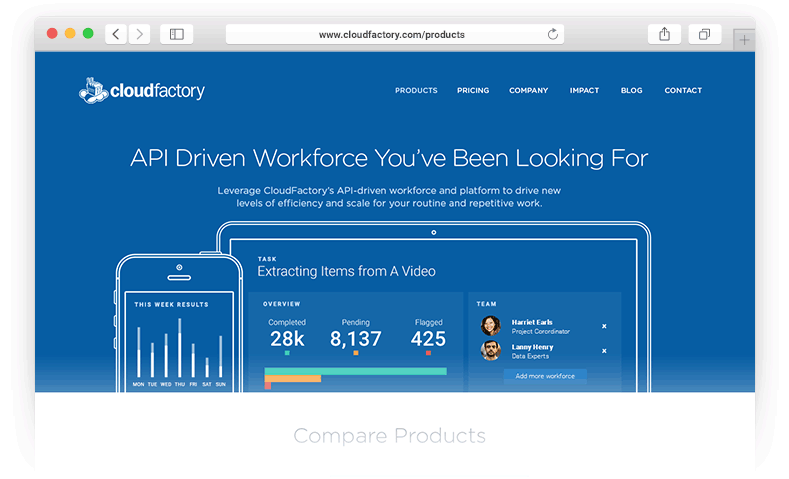 Get Started Fast and Scale Smart
Empowering fast growing businesses to take advantage of this critical trend in the future of work has been our obsession. That's why CloudFactory has launched a new suite of products to make the benefits of cloud labor more accessible, transparent and easier to initiate than ever before. Our new offering is tailored to allow many more businesses to tap into this emerging trend and scale their operations faster and smarter by leveraging talent that is vetted, trained and managed by a trusted partner. It's also low risk since we're offering these solutions on a subscription basis with low monthly pricing and no long-term commitments.
We've been relentlessly focused on making it easy, fast and simple to get started with CloudFactory. On our newly redesigned website you can easily determine which solution suits your needs, see estimated pricing, and even chat instantly with a Solutions Specialist to get started fast.
People, Process or Project?
Customers can now engage with us by project, people or process. We'll meet you where you are, and scale as you scale.
Check it out, play with our pricing calculators and talk to us about what you're trying to accomplish. We're confident we've got a solution that can meet your needs and let you focus on what matters most...the awesomeness you're creating!