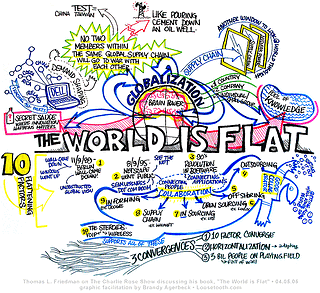 CloudFactory and I am embarrassed to admit I haven't even read the whole book by Thomas Friedman that kicked that term off. But I have just finished a book that uses amazing stories about high-growth businesses in developing countries to reinforce just how quickly the world is flattening.
Sarah Lacy, of TechCrunch and now PandoDaily fame, wrote Brilliant, Crazy, Cocky: How the Top 1% of Entrepreneurs Profit from Global Chaos last year after spending more than 40 weeks in eleven developing countries interviewing entrepreneurs. The worst part about the book is the title, I still don't get it. But I couldn't put the thing down after reading the first few pages. I honestly believe I understand the world and my business better because of it. Not bad for $14.97.
There are so many conclusions that can be drawn as one reads through the series of entrepreneurial stories from India, China, Rwanda, Brazil, Israel and Indonesia.
Silicon Valley can and will be toppled soon.
Hunger drives innovation. Literally.
China is overachieving and India is underachieving. Both will kick global ass.
Attention governments of developing countries - make it easier on entrepreneurs and they will help drive your country forward through innovation and development.
The last conclusion makes me want to call her publisher and get a bulk deal on a couple cases for the Nepal Constituent Assembly. But I won't start that rant here.
Another idea that emerged was how natural it is for social mission to be baked into global businesses, many of the entrepreneurs connected their business to the advancement and development of the country. The companies featured were far from nonprofits but it just helped confirm we live in a confused world of government, business and non-profit. Sarah noted the confusion well when she wrote:
"It's a new paradoxical colliding world where statesmen act like entrepreneurs and investors, entrepreneurs and investors act like statesmen, and nonprofit leaders act like entrepreneurs, investors and statesmen combined, laser-focused on revenues, profits, and a self-sustaining way to save the world without donors."
Read that through a couple times. It isn't anything new but seems to line up with my (small) world.
She even goes so far as to conclude with, "Foreign investment needs to take the place of Foreign Aid. The 20th century may have been difficult for these countries, but the 21st century is theirs for the taking."