After an unforgettable trip to Bandipur in last November, the CloudFactory's social committee once again organized a 2 days hike to Sailung on the first week of March.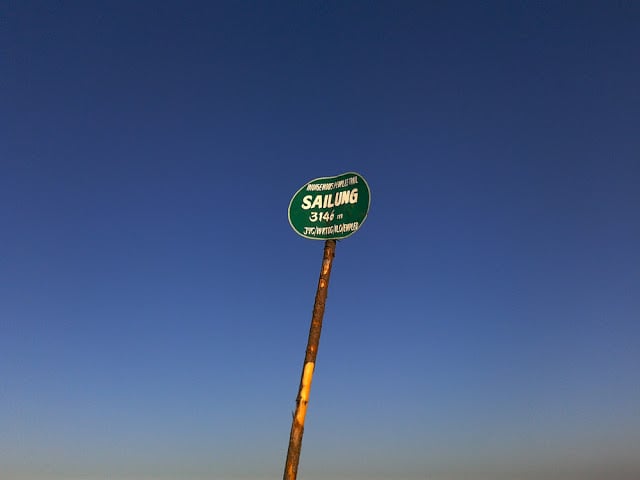 On Saturday morning of 3rd March, the 12 CloudFactory hikers left CloudFactory complex at 7:30am for 2 days Sailung hike. We picked our remaining 4 members on the way. After 4 hours of long microbus ride along Arniko Highway, we reached Mude around 11:30am and had lunch in a local restaurant.
After having a lunch and buying some snacks, water bottles and chocolates in Mude, we started our hike to Sailung around 12:30pm. We'd planned to take our Microbus to Chaichap, a base of Sailung Mountain but it didn't go according to our plan. Because of the poor condition of the road, we'd to walk from Mude, leaving our Microbus and Driver dai in Mude. We'd also missed a local bus to Chaichap, thus there's no option rather than walking.
Firstly, we're disappointed because we'd to walk more than 6 hours to reach the top of Sailung. But as we hiked forward, the beautiful scenery pleased us, though the road was dusty. Moreover, we met one NEA personnel on our way, who's also going to Dhunge Bajar for his official work. He asked us to take shortcut instead of walking along the road, thus we took shortcut from Deurali and within half an hour we reached Baghkhor from Deurali. We took rest in Baghkhor for a while and then started our hike again. As we climbed the uphill from Baghkhor, we saw Sailung at distant and, once we all thought we couldn't reach there that day.
Passing by the dense forest, we reached Dhunge Bajar at 4:00pm. There, we stayed in a near by hotel for snacks. At 4:45pm we left Dhunge Bajar for Sailung, and it was the most difficult trail for us to climb up. We hardly walk along the uphill; we used to walk for 10 minutes and then take rest for 3 minutes. As we climbed up, it was getting cold & we'd already given farewell to the Sun as well for that day.
We reached Kalapani at 5:50pm and asked locals whether we could make it to the top or not? They encouraged us saying, "You can make it, and it's just a 30 min walk from here". We believed them and continued our hike under the half-full-moon but we could not make it, instead it took more than 1 hour.
We reached the top at 7:00pm, and by the time we're worried, since we're not following any trail, we're just climbing the uphill. Once we thought we'd lost our path and even we thought we'd to stay whole night under the sky. Oh, it's freezing cold!
Finally we figured out the trail near from that giant rock. We steep downhill and finally reached Kholakharka at 7:20pm. There were few motels in Kholakharka. We stayed at one of the motels of an old lady. She cooked, rice, daal and local khukura for us in a firewood, and we sat besides the fire. Some of our friends were having headache, thus we asked her for medicine. To our surprise, she said they do not have medicine since they do not need any kind of medicine there. She also told that, people wouldn't get sick there in Sailung area, this fresh air & cool weather is enough to keep ones healthy. We went to bed at around 10:00pm, near by a next house, which was specially designed for guests and trekkers.
The next morning, we woke up at 5:20am and set out for Sailung at 5:40am to see the Sun rise. After 30 min walk from Kholakharka, we finally reached Sailung at 6:10 am that is situated at 3146m above the sea level. At the top there're small hills, thus it has been named as Sailung. We saw the rising sun and took some photos, and had black ginger tea there. Well, I can't explain that moment here in words, that moment was just awesome. That majestic view of Sailung, which were covered with dew, cool breeze, and those Buddhist flags and Sailung Mahadev (Hindu Goddess), just awesome! Moreover drinking black ginger tea at 3146 m, wooo! That's somekinda cool thing, ever I'd done in my life. However, unfortunately we were not able to see beautiful Himalayas clearly due to fog.
At 7:00 am, we left Sailung and headed down for Chaichap since we'd to catch a bus. We reached Chaichap around 9:00am and had breakfast; and then we boarded a bus from Chaichap at 10:00am and reached Mude at 12:00pm. After having a lunch in Mude, we returned back to Kathmandu! On the way, we stopped by in Dolalghat and had snacks. Overall, it's a memorable and adventurous trip.
Here is what our CloudFactory Engineers had to say about their experience:
Dipesh Gautam: I don't think there was much to enjoy in the scenery but it is impossible to forget the experience. It was very challenging, far from what we had expected it to be. I remember how silently the night came upon us as we were climbing up the hill and then everything became so different. Hope to have such hikes again :)
Lujaw Shrestha: It was hike of a lifetime. More of like a Bootcamp with backpacks, 8+4 hrs of marching, mostly uphill. But the rewards of seeing the majestic view made it all worthwhile and as a bonus now have legs of steel.:)
Prasvin Pandey: Was nearly exhausted before dusk, then had to endure 2 hours more of uphill walk in moonlight and finally peace of mind - but, yea, more exciting and challenging than anticipated. After walking a couple of hours in moonlight and just when we thought we wouldn't be reaching 'KholaKharka' soon enough, I'd made up my mind, that we need to spend the night up there itself, some place where we'd be protected from the wind, by lighting up a fire and cuddling around it :)
For more photos, please check our CloudFactory page on Facebook.