We were honored to be a part of GEO Business 2023, one of London's largest geospatial events bringing close to 4,000 industry leaders drawn from 120 global brands and cutting-edge start-ups. With a focus on the latest geospatial technology, tools, trends, and offerings, CloudFactory showcased how its expertise and scalable human-in-the-loop AI solutions can accelerate aerial and geospatial AI initiatives.
Meet the team: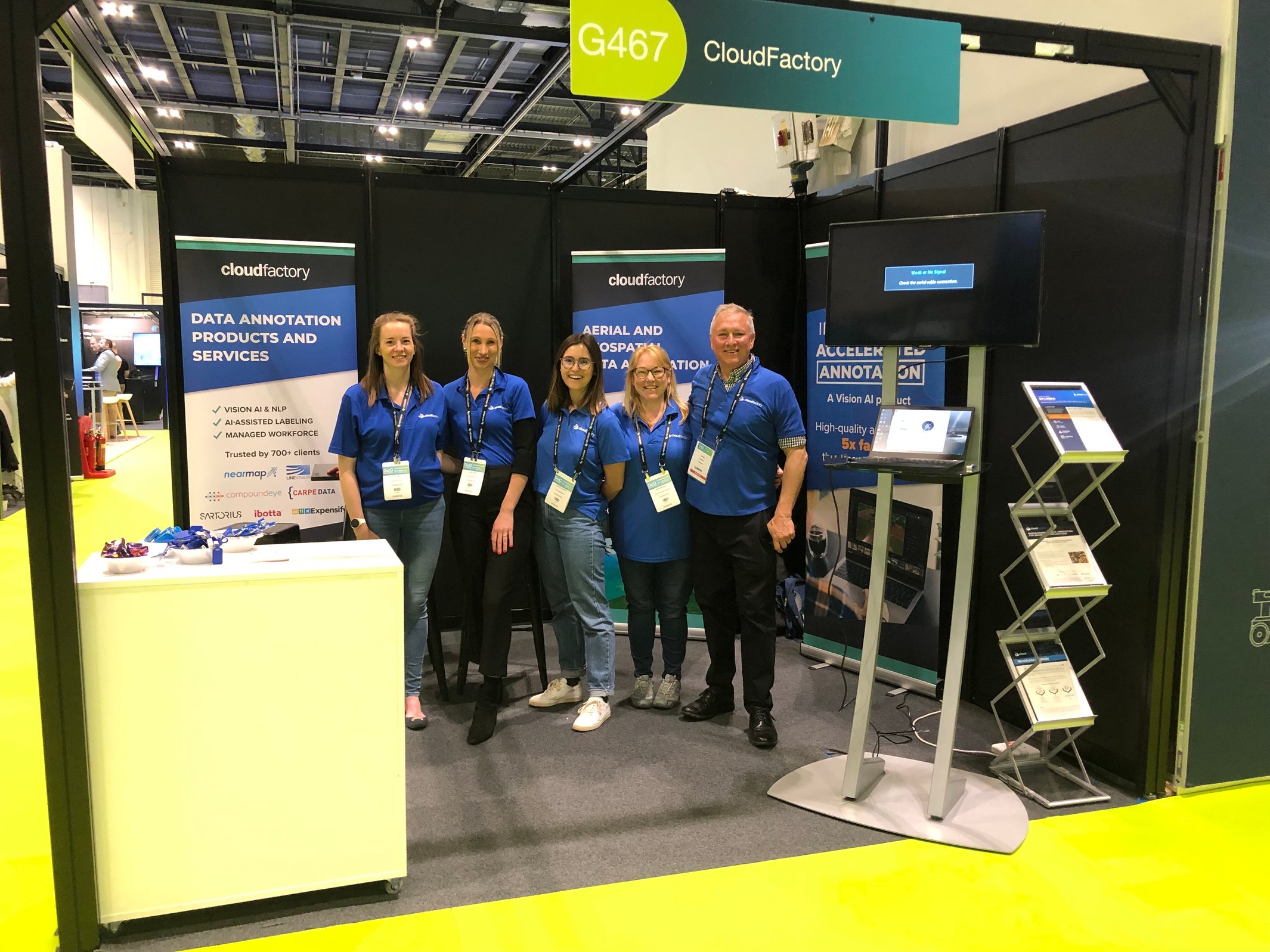 Plenty of opportunities were unveiled at Geo Business. If you missed it, here are some key highlights:
Exciting times are ahead as we continue to unlock the power of high-quality data for AI and drive progress in the industry.
Geospatial AI innovations continue to emerge
The use of advanced geospatial technology and innovation in various applications including GIS, AI, AR, remote sensing, and earth observation data continue to emerge. GIS systems collect, store, and manage large datasets while AI is used to extract meaningful information through:
Computer vision analysis of GIS satellite or aerial imagery to identify and classify objects used in applications like urban planning, environmental monitoring, or disaster response.
Pattern recognition to predict the likelihood of certain events (e.g., flooding or wildfires) or to optimize transportation.
Predictive models to predict land-use changes, population growth, or determine optimal locations for infrastructure development.
Real-time monitoring and analysis of sensor and IoT data to detect anomalies, identify trends, or trigger action.
Several sessions covered the use of such technology and remote sensing for applications including disaster preparedness and response (Align JV, Bogazici University, MOD, Pacific Disaster Center, Vexcel Imaging), flood risk mapping using augmented reality (Geosmart Information), operationalizing remote sensing techniques (2Excel Geo, APEM), and providing Very High-Resolution (VHR) satellite imagery (European Space Imaging) and monitoring missions (SOCOTEC).
The presentations reflected the broader focus on leveraging geospatial data, technology, and analytics to address environmental challenges, support sustainable development, and enhance decision-making through accurate and immersive representations of real-world environments.
3-D modeling, digital twins and BIM technology is vital
There was talk of 3-D Modeling and visualization combining digital twins linked to real-time data from physical counterparts to create virtual replicas to benefit planning, design, analysis, and decision-making, like Matterport is doing. Such integration enables companies to better understand, optimize, and predict performance and avoid failures via predictive maintenance. These tools help simplify communication and convey complex information more effectively through visual representation.
Layering on Building Information Modeling (BIM) further enhances collaboration and efficiency in the ongoing operation and maintenance of facilities as conveyed by innovators in attendance such as Bentley Systems, Blue Marble Geographics, Bluesky International, DJI, TopoDOT) LiDAR (Airborne Robotics, APEM, Blue Marble Geographics, Bluesky International, COPTRZ, DJI, Flai, Geo-4D, Hexagon, Queen's University, Belfast).
BIM technologies also create accurate and immersive representations of real-world environments (Skanska), resulting in better decision-making, improved analysis, and the ability to simulate and predict various scenarios more accurately and efficiently.
The geospatial industry is adopting open standards
Adopting open standards, such as those established by the Open Geospatial Consortium (OGC), allows effective discovery, access, integration, and reuse of geospatial data. The OGC plays a vital role in promoting the use and sharing of geospatial data across domains, including government, industry, research, and academia. The standards and initiatives developed by the consortium contribute to the interoperability and compatibility of geospatial systems and enable more effective and efficient use of geospatial data in various applications. Their focus and standards are helping to address areas such as defense and intelligence, health, smart cities, and disaster resilience.
There's potential for economic and social benefit
Needs Map touched on their social cooperative that connects economically or socially underserved communities and individuals with opportunities, support and revenue streams. The initiative resonates with CloudFactory's mission of connecting 1 million talented people to meaningful work. We are using technology to flatten the world by bringing individuals closer to the global economy and raising them as leaders to fight poverty and change their communities.
How CloudFactory can help
For many of these emerging applications, there is a rising need for data processing, encompassing visual (2-D, 3-D, LiDAR), thermal, and sensor data. While the advancements in camera and sensor technologies make data collection easier, companies face challenges in processing this data efficiently on the backend. They often struggle to afford qualified analysts for post-processing data or face time constraints when handling everything in-house with limited team members.
This is where Cloudfactory comes into play and where we've seen significant growth in recent years. Our data analysts have worked with over 100 aerial and geospatial clients, processing and labeling over 3 million hours of drone and geospatial data. This data has been vital in analysis, training ML models, and creating digital twins.
Our highly skilled and managed teams work as an extension of your team, enabling you to execute GIS and post-flight data processing with speed and accuracy. To learn more, take a look at how we support companies in the aerial and geospatial industry.