What's the ISO 9001:2015 certificate, and why should it matter when selecting a data annotation or document processing vendor?
This internationally recognized standard ensures that services meet the needs of clients through an effective quality management system.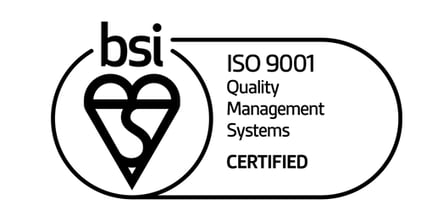 This certification matters because it results from months of independent process review and verification of business practices. It speaks to the ability of a company to:
Consistently provide products and services that meet customer and applicable statutory and regulatory requirements
Facilitate opportunities to enhance customer satisfaction
Demonstrate conformity to specified quality management system requirements
CloudFactory's ISO 9001:2015 Certification History
Back in late 2020, we were proud to announce that CloudFactory had been awarded the ISO 9001:2015 standard in Quality Management Systems.
In December 2021, we passed our first annual surveillance audit, so we wanted to take a moment to share with you more about our approach to quality management and what you should look for in a workforce vendor when it comes to quality.
You can check out CloudFactory's other certifications here.
While the designation is an important acknowledgment of the ways that we ensure quality in every aspect of our business, our commitment to the seven foundational principles of the ISO standard have been hallmarks of our business and of the ways that we serve our customers throughout our history:
#1 & #7 Customer focus and relationship management: We have been partnering with world-changing

technology companies

for over a decade. These companies gave us a Net Promoter score of 62 (in the top percentile for technology companies) for the 25 million+ hours of work we've delivered.
#2 Leadership: Our company mission is to create 1 million leaders worth following by investing in the

competency, character, and community

orientation of our entire team. By working as "one body with many parts" we create a unity of purpose to help all of our teams deliver on our objectives, including those related to quality.
#3 Engagement of people: We build relationships with one another and with our clients. By engaging the skills and talent of our

rapidly expanding global teams,

we continue to grow our business, our mission, and our impact on the availability of digital work.
#4 Process approach: We invest in processes that help orchestrate the people and technology that come together to deliver our data annotation and document processing services. Process orientation ensures that we deliver results efficiently and predictably.
#5 & #6 Improvement and evidence-based decision making: Every element of our

service delivery

-

from our start-up process to how we measure and optimize performance - is based on data and driven by a commitment to continuous improvement.
Want to learn more about how we incorporate quality into everything we do? Contact one of our data advisors today.
Outsourcing News Data Security AI & Machine Learning Quality Compliance