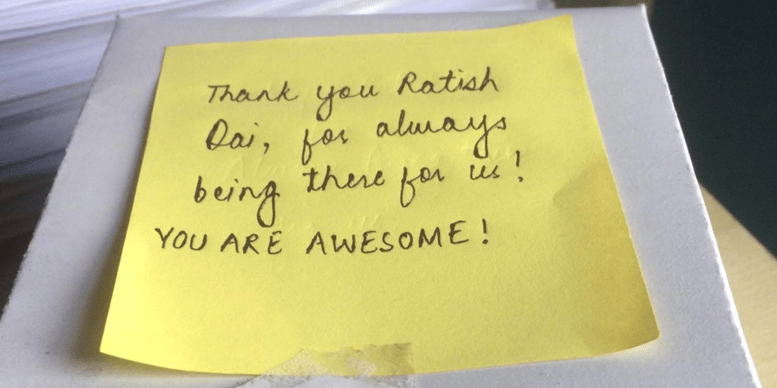 Every Monday morning, CloudFactory hosts team meetings in each of our locations around the world: the U.S., UK, Nepal, and Kenya. Last week, our founder and CEO, Mark Sears, joined us from the UK to share a special message: Every single worker is important to our mission and, while it doesn't always make good business sense to stop to assist someone else in need, it pays off in the long run by creating stronger relationships with CloudFactory workers and the people in our communities.
Mark encouraged us to find time during the week to do random acts of kindness for our families, co-workers, and people in our communities. We called it Kindness Week.
From Nepal, CloudFactory VP of Talent and Culture Joel Montgomery shared more about the kindness initiative and showed a video about how random acts of kindness can help others and create relationships and positive effects far beyond what we might expect a single person could achieve.
All week, on an internal chat channel we called #kindness, we shared stories from around the globe about moments we experienced that showcased kindness and the impact it can have on our lives and the lives of others.
Here are a few of those stories and the differences they made in the people who experienced them:
One CloudFactory employee in Nepal, Kailash Badu, said a friend checked on him during a hike. "I wasn't feeling very energetic that morning, and I wanted to rest," he said. "As everyone turned right toward a trail that would take them completely out of my sight, my friend stopped. He turned back, looked at me, and waved his hands to make sure I was OK. I found myself thinking, 'You never fail me.'"
CloudFactory's U.S. office manager, Heather Niemiller, shared a story about how she saw a co-worker, Matthew McMullen, help a man just outside our office on Main Street in Durham, N.C. The man was struggling with a bag of what appeared to be his only possessions. The bag was breaking. Matthew ran outside with a new bag for him.
On his way with a co-worker to a staff retreat in Nepal, Purushottam Tuladhar noticed a child walking to school. They stopped and gave him a ride. He later posted a photo of it (shown) on the #kindness channel.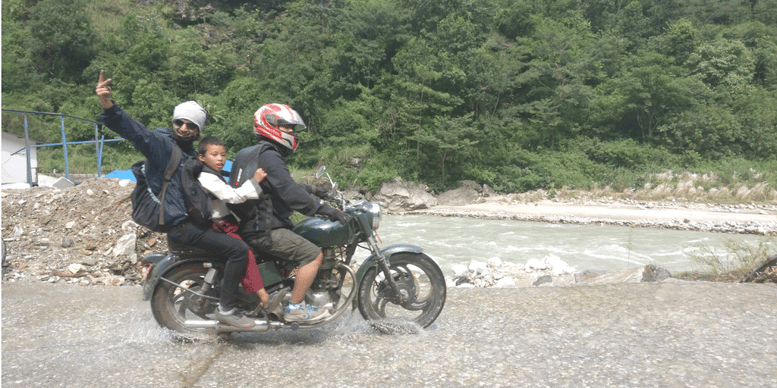 Joel Montgomery recently moved to Nepal with his wife and their two young children. On a stopover in Reading, UK, someone surprised them at the airport. "After passing through security, I saw a big smiling face walking toward me," said Joel. "It was [CloudFactory Founder and CEO] Mark Sears and his wife Laurel. Later, when we arrived in Reading on the bus, [our CFO] Cary Smith magically appeared to help us carry our bags to the hotel. I am so thankful to work at a company where people look after one another and, literally, carry one another's burdens."
Many more CloudFactory employees shared stories about people sharing treats, tea, and coffee with co-workers. We noticed how acts of kindness in Kenya seemed to involve tasty food. Others told stories about receiving notes of appreciation and encouragement on their desks. In one post on the #kindness channel, a CloudFactory employee wrote, "Just found a thank-you note that was full of kind words for the operations team on my desk. Lightened up my day. Thank you!"
Many workers remarked that they were inspired by how quickly the teams in Kenya and Nepal adopted the initiative and displayed their respect and appreciation for so many of their co-workers.
We talked about kindness during what we call "Team Time": a weekly Friday event, when we share lunch and talk about issues facing our countries, company, and the world. We shared our kindness stories and talked about the difference it makes when we stop for the one who could use a helping hand.
Our global acts of kindness won't stop, but it was great to take a week to recognize how much they make a difference in our lives and the lives of others. Please post your acts of kindness and tag us on Twitter @theCloudFactory. We'd love to share what happens when people take the time to focus on how they can make a difference for others.