A drone is just a flying robot.
But when combined with a terrestrial-based system, it can be so much more.
That thought sparked the panel discussion between drone industry leaders Neheet Trivedi, a senior account executive in CloudFactory's geospatial sector; David Inggs, head of ground robotics at DroneDeploy; Dev Singh, senior director of business development at Qualcomm; and moderator Scott Howe, editorial analyst at Commercial UAV News.
The panel discussed how, where, when, and why drones can work with existing and emerging technology systems to deliver value.
In this post, get right to the heart of the discussion with our geospatial team's four most compelling takeaways:
Data needs context.
Emerging applications require a holistic view.
Value goes beyond commercial.
Scalability is required.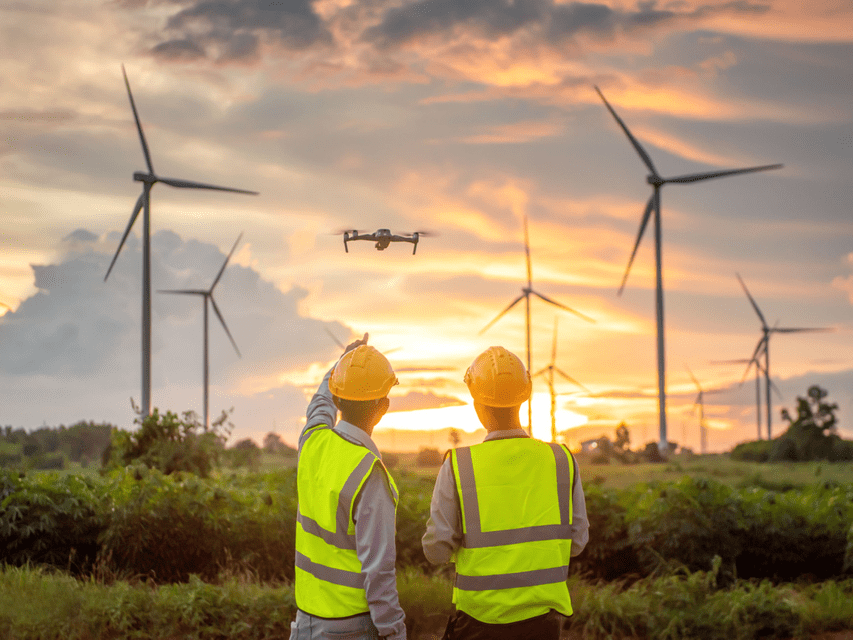 1. Data needs context
Building a rich dataset and producing a live pipeline for real-time decision-making requires stitching together aerial and terrestrial data, for example, orthomosaic and LiDAR. But combining diverse data types leaves a gap. To bridge that gap and make sense of the outputs, augment both air and ground data using the right combination of people and software—people with expertise labeling complex geospatial and terrestrial data and a platform that can handle different types and sizes of collected data, such as image, video, sensor, and audio data.
2. Emerging applications require a holistic view
A growing number of emerging applications strive to bring a holistic view to their enterprise users. For example, in construction projects, users want a digital twin model that shows—in one application—exterior views captured by drones and interior views captured by people and sensors. Also consider inspection applications, where you might combine aerial data with data from ground robots to provide a single, comprehensive analysis and inspection report.
3. Value goes beyond commercial
Beyond the obvious cost savings from combining drone and robotics data, expect significant social benefits, too. For example, think about the human safety benefit of maintaining wind turbines without needing three individuals to precariously climb to inspect them manually over a full day. With drones, that work can happen in hours, and all from the ground.
4. Scalability is required
And don't forget scalability, which is required in multiple aspects of integration. Neheet shared how CloudFactory easily processes gigabytes to terabytes of data once it's in the cloud. But David highlighted the challenges of moving from the lab to the field, and the need to scale a solution for commercial deployments. For example, a construction site typically lacks the internet infrastructure for uploading data from drones and on-site terrestrial systems, which means you need to figure out how you'll move the data to the cloud in advance.
Overall, the panelists are optimistic that the aerial and geospatial industry is maturing. They expect new applications for combining drone and robotic systems continue to emerge.
Watch the webinar on-demand to dive deeper, and understand what's behind the push to integrate drones with existing and emerging systems.
How CloudFactory can help you pull valuable insights from aerial and terrestrial data
Quality inputs yield quality outputs, which is why extracting valuable insights from data collected by drones and terrestrial systems begins with quality data processing and annotation. CloudFactory's managed human-in-the-loop workforce has expertise in labeling 2-D and 3-D images and video, plus sensor, point cloud, orthomosaic, digital twin, and LiDAR data, so your team can gain valuable insights quickly while optimizing your operational costs.
Learn more about how our managed workforce prepares aerial inspection data so you can scale operations and improve asset management.