KATHMANDU Feb 14, 2013 - CloudFactory, a technology startup based in Kathmandu, Nepal today announced its plans to hire 5,000 part­-time data entry operators in Nepal by the end of this year. The social enterprise currently has 80 full­time staff and almost 600 part­-time operators. This latest growth plan comes after securing contracts with international clients wanting to use its world­class technology platform to deliver data entry tasks to their talented workforce in Nepal.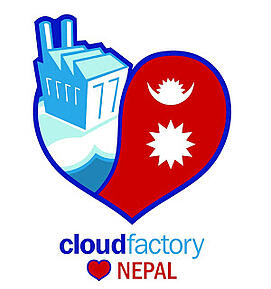 "We are thrilled with the growing demand for CloudFactory's services that now enables us to provide work opportunities to 5,000 more people in Nepal by end of this year," said Mark Sears, Chief Executive Officer at CloudFactory. "This growth is a real testimony to the level of talent in Nepal. We have an amazing world class group of software engineers that have built our software and a dedicated group of data entry operators, all in Nepal."
"At the Nepal Investment Board, our mandate is to promote the economic development of the country by creating an investment-­friendly environment. We are excited about CloudFactory because they join us in two of our major goals ­ creating employment opportunities and offering meaningful contribution to poverty alleviation," says Radhesh Pant, Chief Executive Officer at Nepal Investment Board. Mr. Pant addressed a crowd of 300 people from CloudFactory today at the "We LOVE Nepal" event held at Big Cinemas in City Center Mall. Valentine's day was chosen as a way to show the company's commitment and love for the nation it started in and where it continues to have most of its operations.
Anyone in Nepal can take the initial test found at http://cloudfactory.com/apply and then form a team of 8 people to apply at CloudFactory. Many of the current cloud workers are college students who enjoy the flexibility of working from home 5 - 20 hours per week according to their own schedule.