As the Association for Unmanned Vehicle Systems International (AUVSI) celebrated its 50th Xponential event in Denver May 9-11, 2023, it was clear that the future for aerial systems is more than ready to take flight. The event provided a great opportunity for the CloudFactory team to learn, explore new offerings, and problem-solve with pioneers and innovators in intelligent robotics, drones, and uncrewed systems.
Meet the team: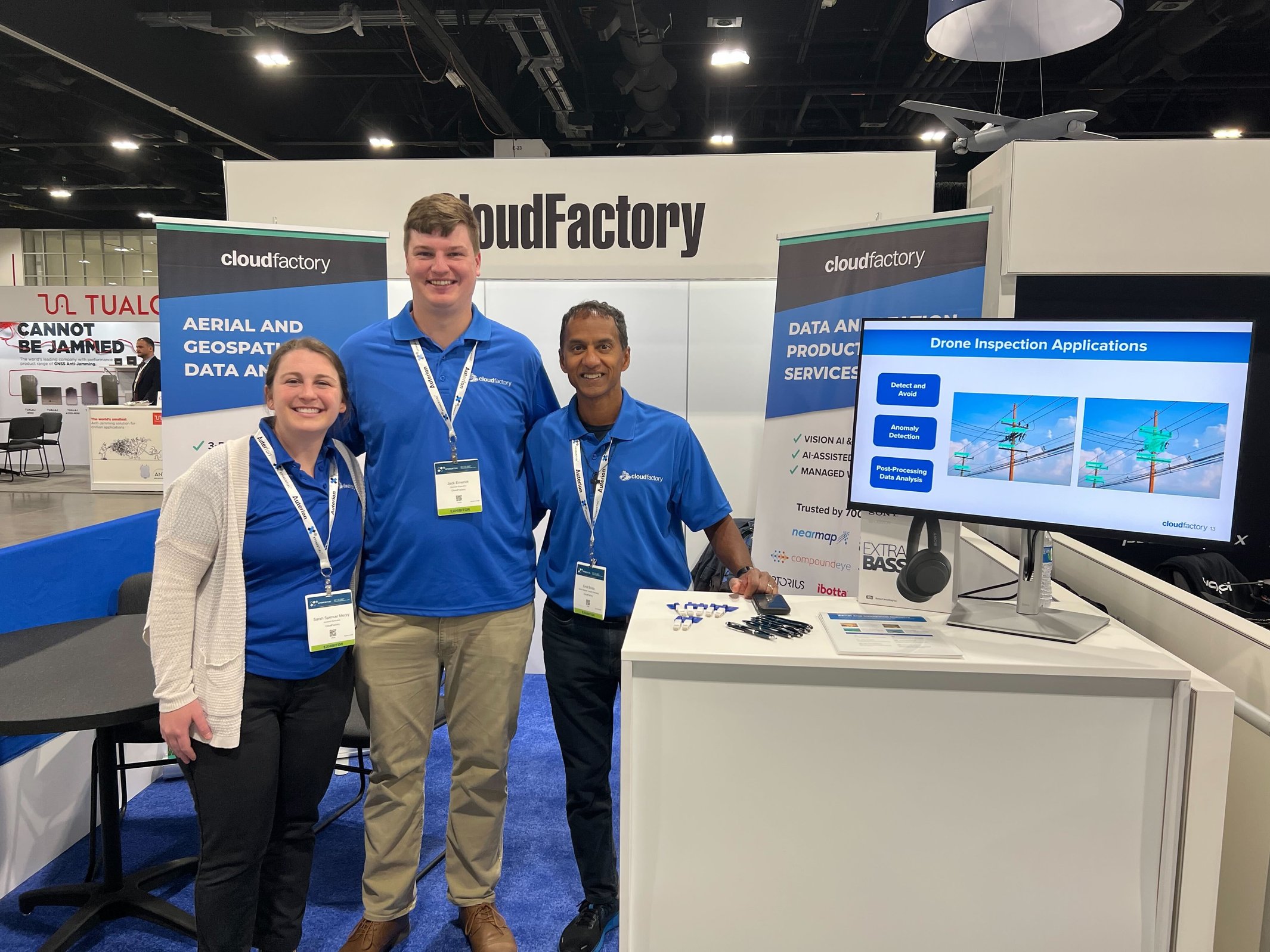 Main Takeaway from AUVSI
Our team agrees that while we enjoyed the unveiling of the latest technological innovations in the expansive exhibition hall at the Colorado Convention Center, it felt like the regulatory environment needed to support this blossoming UAV industry was lagging behind the rapid technological advancements.
The Acting FAA Administrator, Billy Nolen, attempted to alleviate concerns that things weren't progressing fast enough. He shared how the FAA announced its airspace blueprint for air taxis and future advanced air mobility (AAM) operations a week earlier, indicating that "AAM operations will begin at a low rate with air taxis flying much as helicopters do today." In other words, the idea is to utilize already established helicopter pads to facilitate the take-off, landing, and movement along specific flight routes connecting airports and vertiports.
Also, drone delivery operators like Flytrex and Causey Aviation are primed to ramp their unmanned drone delivery into more markets since being granted Standard Part 135 Air Carrier Certification from the FAA.
On the flip side of this sticky coin, the FAA revealed that around 1 million drones already operate across the USA. So, while considering the logistical and safety hurdles of air transportation, it's worth embracing a touch of caution because we don't want to take cover when we see autonomous drones flying above.
3 High-Potential Opportunities at AUVSI
While these challenges persist for fully autonomous operations, some excellent applications are taking flight, mostly in what we'd describe as controlled environments or airspaces. If you couldn't attend the event, here are the standout opportunities that caught our team's attention during AUVSI 2023.
1. Industrial Aerial Inspections
2. Civil and Emergency Management
3. Site Security and Surveillance
AUVSI was a non-stop knowledge-sharing powerhouse, and it's an honor to share in developing uncrewed and autonomous systems.
1. Industrial Aerial Inspections
Driven by the need to contain escalating operational costs, a lack of skilled employees, and safety concerns, this industry is not being held back by adopting drones for industrial asset management. Several providers demonstrated the benefits of aerial inspections with utility, oil and gas, renewable energy, mining, and other industrial environments where they have permission to fly.
For example, Percepto Robotics announced that they received a groundbreaking FAA waiver that allows Percepto to operate beyond visual line of sight (BVLOS), close to structures without ground-based systems. The waiver provides authorization to fly 200 feet above and around assets located on critical infrastructure sites, which is beneficial for many industrial inspection use cases.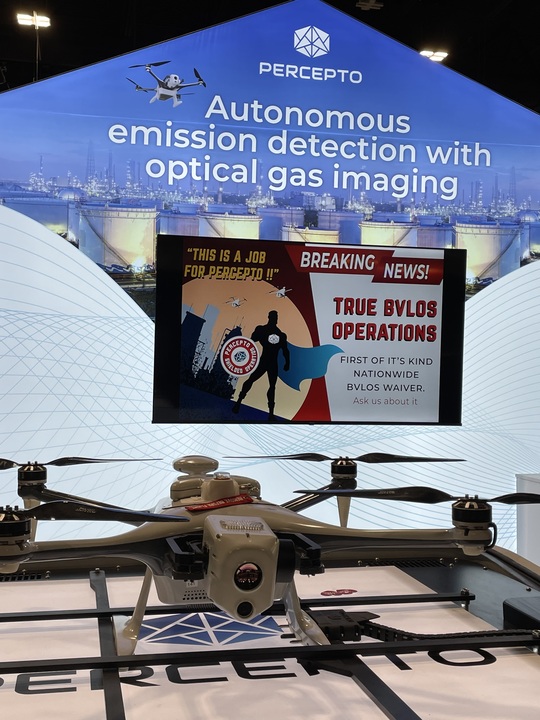 2. Civil and Emergency Management
Another segment that's progressing the applications for drone use is municipal governments for civil infrastructure management and first responder applications, especially to aid police and fire departments. Cities and municipalities are utilizing drones to verify the integrity of city assets without requiring crews to routinely dispatch or assess damages after major storms.
Meanwhile, emergency management applications are growing faster, providing real-time situational awareness and improving triage through live visual HD cameras that give law enforcement and first responders critical 'eyes in the sky'.
Skydio, for example, claims to have enabled law enforcement agencies across 47 states to gain an aerial view for dynamic situational awareness. With compact portable drone systems such as those showcased by vantage robotics, an officer can quickly unfold and deploy a drone on site to provide visual insight from the air much quicker than costly alternatives such as helicopters, which are mostly limited to big cities that can afford them.
3. Site Security and Surveillance
A plethora of 'drone in a box' solutions were also showcased at AUVSI, from systems small enough to be held in your hand to ruggedized encasements that can be installed to operate autonomously at a commercial site. Most of them feature self-charging, auto-deployment, and retrieval systems that allow providers to install once and leave, requiring little field maintenance.
One of the best practical applications for these was for site security and surveillance like those showcased by Dronehub. Gone are the days of paying hired security guards to make rounds of a large facility looking for suspicious activity or something unusual. These drone security-in-a-box solutions can be programmed to automate security rounds with live and recorded video.
The cool thing about this application is that it can be done in less than 30 minutes. That leaves plenty of time for the autonomous system to zip back to base, recharge, and prepare for its next security patrol.
Some of these security and surveillance drone applications are being deployed in real-time. For example, emergency management applications take immediate action based on the visual assessment they gather on site.
How CloudFactory Can Help
For many of these emerging applications, there is a rising need for post-flight data processing, encompassing visual (2-D, 3-D, LiDAR), thermal, and sensor data. While the advancements in camera and sensor technologies make data collection easier, companies face challenges in processing this data efficiently on the backend. Many struggle to afford qualified analysts for post-processing data or face time constraints when handling everything in-house with limited team members.
This is where Cloudfactory comes into play and where we've seen significant growth in recent years. Our data analysts have worked with over 100 global clients, processing and labeling over 3 million hours worth of drone and spatial data. This data has been used for analysis, training ML models, and creating digital twins.
Our highly skilled and managed teams are an extension of your team, enabling you to execute post-flight data processing with speed and accuracy.
To learn more, check out how we support companies in the aerial and geospatial industry.