If your autonomous vehicle (AV) data pipeline is too massive to handle internally and too complex for automation alone, your in-house team is likely to partner with one or more external workforces to deploy, operationalize, and refine your autonomous driving data.
This practice is also called a multi-workforce approach. It optimizes output, reduces internal burdens, increases quality, and saves you money.
To train your model, your AV team may be assigning workflows to different data labeling workforces. For example, one workforce might manage a workflow labeling stop signs, while another workflow labels pedestrians and cyclists. Yet another workforce might be dedicated to bounding box annotation, while another handles a workflow for point cloud annotation.
Which workforce should you use for which workflow? Technology companies and manufacturers use six common workforces to manage the AV data pipeline: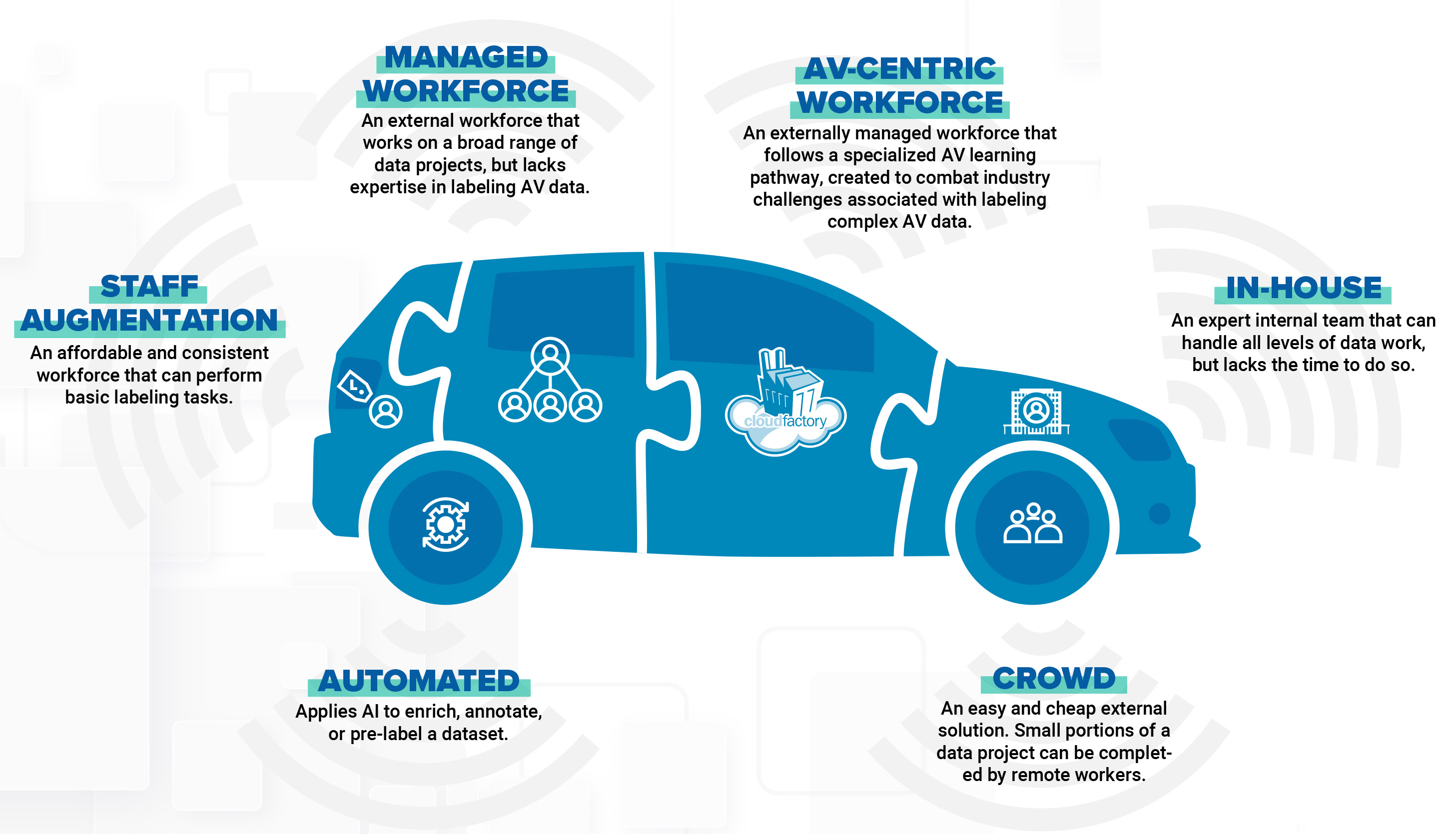 How to optimize your autonomous driving data pipelines with multiple workforces
With so many workforces to choose from, how do you make sure you're optimizing your autonomous driving data pipeline?
Make partnering with AV-centric managed workforces a central part of your strategy.
AV-centric workforces:
Will optimize your data pipeline by strategically joining people, processes, and technology to handle complex AV edge cases, automated and AI-assisted labeling, human-in-the-loop labeling, QA, and model retraining.
Offer solutions for high-quality image, video, and LiDAR point cloud annotation at scale. The AV leaders we work with need robust AI and machine learning models to ensure their systems are safe and reliable. To build and sustain those models, they rely on high-quality data labeling from one or more AV-centric workforces.
Following in their footsteps will allow you to scale while freeing your data operations teams to focus on innovation.
Introducing CloudFactory
CloudFactory, a computer vision data labeling pioneer, has been serving dozens of autonomous vehicle companies at various stages of maturity for more than a decade. We're also the only data labeling company that works in all leading data labeling tools and client-developed tools every day.
Our AV-centric workforce also follows a specialized autonomous driving LiDAR learning pathway that combats industry challenges associated with labeling LiDAR data. Watch the following short video to take a deeper dive into the specialized autonomous driving LiDAR learning pathway our data analysts experience:
CloudFactory is driving the advancement of self-driving cars by labeling the enormous amounts of individual objects in images and videos to train machine learning and computer vision models to accurately interpret the world around them. Learn more about our work with autonomous vehicles.
Want to explore what it might look like to partner with us?
Video Annotation Data Labeling Computer Vision AI & Machine Learning Automotive