When considering outsourcing, it can be hard to imagine anyone doing the work that doesn't have the depth of context, understanding, and experience as someone inside your own company or industry. Especially as a use case goes deeper and deeper into the nuanced and technical aspects of industries like medical, finance, or legal. It's a concern we hear quite often as we consult with companies who have first done their data work in-house before seeking another option.
As we continue to draw parallels between the Rubik's Cube® and unstructured data in this blog series, the cube brings clarity to our specialization conundrum.
THE PROCESS OF TRAINING
The Rubik's Cube® has been on the market for 40 years now. During that time, the steps needed to solve the puzzle are well documented, and successful strategies to solve a cube even faster continue to evolve with refined processes and algorithms that test the mathematics of this iconic puzzle's structure.
In fact, according to a 2010 study conducted using Google's supercomputer, it was confirmed that no Rubik's Cube® will ever need more than 20 steps to solve the puzzle.
Preparing an external workforce for a data project isn't much different than teaching someone the steps by which they can solve a Rubik's Cube®. It feels complicated, but with the right preparation, maybe not as much.
CloudFactory understands proper training backed by a solid process and strong feedback is key to delivering high-quality throughputs. We've put in the work and tested it time and again to identify our own "steps to solve." And depending on the difficulty and complexity of a task, varying levels of customized training and attention are table stakes to ensure a clean result.
Our tried and true training regime is most effectively done through a combination of in-person and online programs led by team leads who have themselves learned by doing. Integrating client-provided materials and tailored to individual learning styles, the workforce is essentially handed their process steps to solving the puzzle problem.
BUT OUR INDUSTRY IS SO SPECIALIZED
One of the biggest questions we get from potential clients is whether the workforce doing their data labeling will actually understand the most technical aspects of their business, enough to achieve premium results.
The truth is, CloudFactory has completed a number of projects that you may think require a workforce with specialized education or industry-specific work expertise.
Much like the Google scientists determining the magic number of 20 moves being the most efficient algorithm for solving a puzzle, we work with our clients on the most efficient way to train and learn for necessary industry insight, specialization, and accuracy. This applied learning can be developed and adopted so technical aspects of any industry can quickly be learned and leveraged.
As an example, our teams have successfully tagged complicated subject matter like cancerous versus healthy cells, marked radiographic images of bones, and made decisions on the intention of statements in legal documentation.
Success comes from our teams effectively applying the most complex of industry acumen gained from customized, precision training and a sound process.
With a proven, repeatable process and a customized training program, anything is possible.
THERE'S STRENGTH IN GUIDANCE
All of us need guidance and support to successfully reach goals. The Rubik's Cube® website even has a 45-minute tutorial on how to solve one of their cubes. But the real value comes from what happens after the textbook training.
In typical crowdsourcing models, workers receive the minimal instruction required to begin a new project and then are essentially on their own from there. Much like spinning those colored panels on the cube, where there are a mind boggling 42 quintillion possibilities, you never know if you're on the right track until you're too far into it. The isolated workers dive into projects, moving from one task to the next without hearing how they did until it's too late. There's a gap in the process that fails to guide and support them as they are performing the work. They aren't learning as they go, they're often failing over and over and simply don't know it.
So, let's not forget the importance of real-time feedback.
CloudFactory's workforce model integrates a few things to get this right and ensure a quality outcome.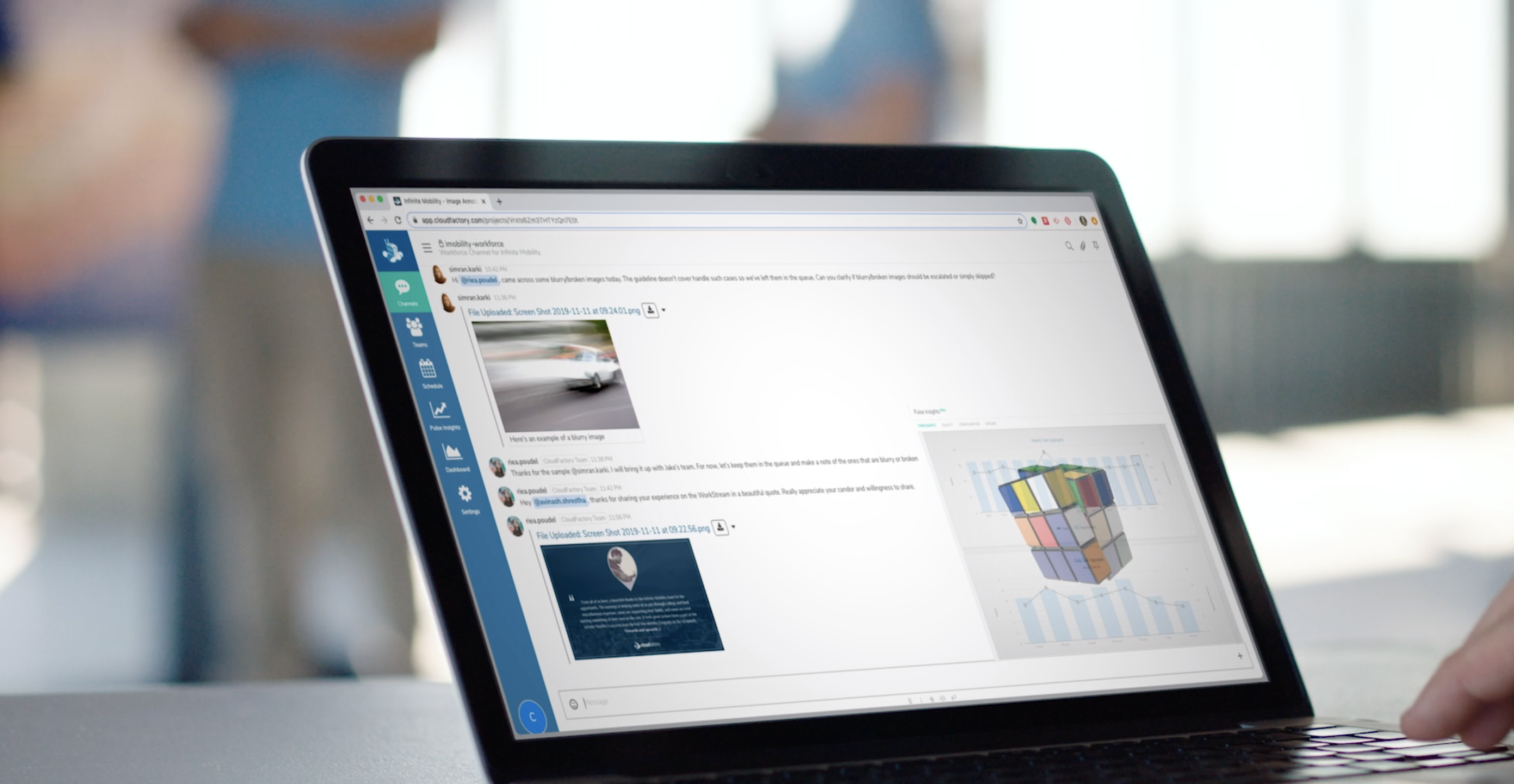 First, new team members are paired with a learning partner. They get the benefit of working side-by-side with someone else who they can bounce questions off of and work with to help them through the steep learning curve. On top of that, all work is monitored closely by their team lead and team captains, who conduct initial quality assurance checks.
In addition, we incorporate a client review cycle. This allows for a review of tasks as they're being performed and a direct channel to provide real-time feedback to amend any labeling task before it's too late in the process. That real-time performance review ensures they don't have to go back and fix more mistakes than necessary – it's done immediately with minimal time wasted.
PROBLEM SOLVED
So how can you build confidence and solve your outsourcing specialization puzzle? Demand process efficiency, comprehensive precision training, specialization through applied learning, and the ability to give immediate feedback throughout the labeling lifecycle. Now that's something even the best Rubik's Cube® guides can't offer. Otherwise, we just might solve that puzzle in 10 moves.
Data Labeling Data Workforce Workforce Strategy AI & Machine Learning