The events of the last nine days have been anything but business as usual for CloudFactory. The ferocious earthquake that shocked the world also shook us to our core. This event and the days after it have brought agony and triumph, devastation and inspiration. Our first priority was accounting for our team members and cloud workers and assessing their immediate humanitarian needs. Our team leapt into action in a massive effort to locate over 1,300 team members in and around Kathmandu. We used every social media trick in the book and we're happy to say that everyone has been accounted for.
Agility in Crisis
While we worked to locate all of our team members, we also began a grassroots relief effort to get aid directly to those who desperately needed it. Many on our team volunteered to coordinate and execute this critical outreach. As a dynamic tech startup, we utilized many of our own agile methodologies to be as efficient as possible — time was of the essence. There were daily sprint meetings where we made fast decisions and developed processes that we then iterated on as we discovered what the true needs were. Each day has felt like a full week. We delivered thousands of meals, liters of fresh water and more throughout the Kathmandu Valley, particularly in hard hit areas like Bhaktapur and Patan.
This week we've began the process of shifting our outreach strategy from direct relief via our HQ to mobilizing our cloud workers to reach wider and deeper over the long-term. We think of it as going from being an operator/entrepreneur to an investor/incubator. We'll partner with our cloud workers (our amazing young community leaders) to help them address the needs they see in their own communities. In the meantime we continue to visit with the families of our core team and cloud team to help them through this difficult time.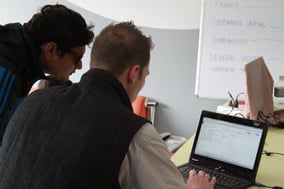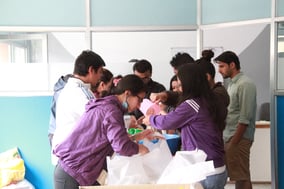 Getting back to what we do best
The most important thing we can do for our employees, their families and the nation of Nepal is to get back to doing what we do best. Building and leveraging advanced technology and hiring smart people to help our customers scale fast by doing what technology on its own can't accomplish.
Our mission of connecting 1 million people in the developing world to online work, while raising them up as leaders to address poverty in their communities has never been more important, particularly in Nepal. It's a virtuous cycle that can create a butterfly effect throughout the nation, touching thousands of lives in the process. Our workers take the skills they've developed working for CloudFactory and move on to new and better opportunities, raising their standard of living and that of their families.
We're ready to get back to work because Nepal needs CloudFactory more than ever - more jobs and more leaders serving their communities. Nepal will never be the same, but that doesn't mean there's no hope —far from it. We know that a more hopeful future can be built through economic opportunity and by raising up more leaders.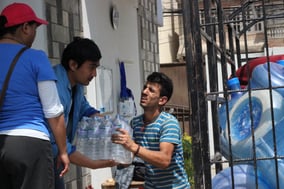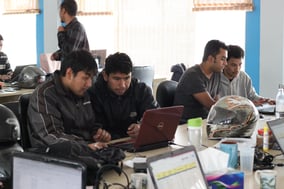 A Testament to Resiliency
Just one week after the largest earthquake to hit Nepal in 80 years, we're back to 100% production. That's astounding, and it demonstrates the resiliency of our people, our online work platform and our distributed workforce model. We had workers back online as early as 6 hours after the earthquake and within 2 days we had the highest priority production lines ramping up nicely again. Below you can see a real life visualization of worker productivity just before the quake and in the days after.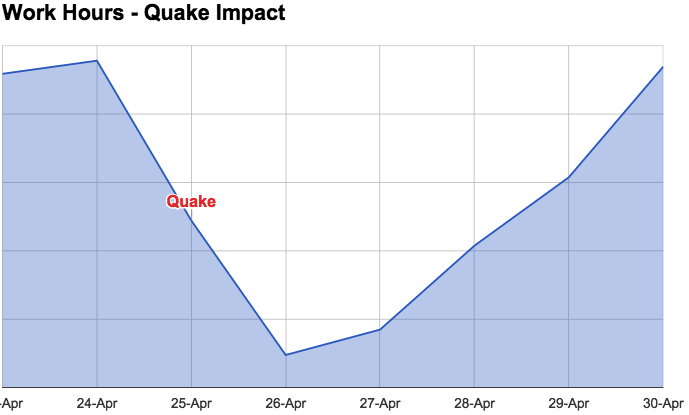 We've been in close communication with our customers throughout, all of whom trust us with mission critical tasks that keep their solutions running. Due to the visibility we offer through our user interface our customers have had unparalleled transparency into their production lines. All backlogs have been processed and our workers are working more hours on average than before the earthquake, allowing them to earn more and channel much needed money into Nepal's economy.
A New Horizon
Nepal is entering a new era, and CloudFactory is with it. As the aftershocks subside and Nepal finds a new normal, many are left to wonder what the future holds. It's easy to look at the devastation and see a long, difficult road ahead, but some will dare to imagine a stronger, more hopeful future. Ours is a decidedly hopeful view filled with possibility through economic opportunity, yet tempered by what we know will be challenging times ahead. If the resiliency that our team has shown is any indication, Nepal's best days may very well lie ahead.