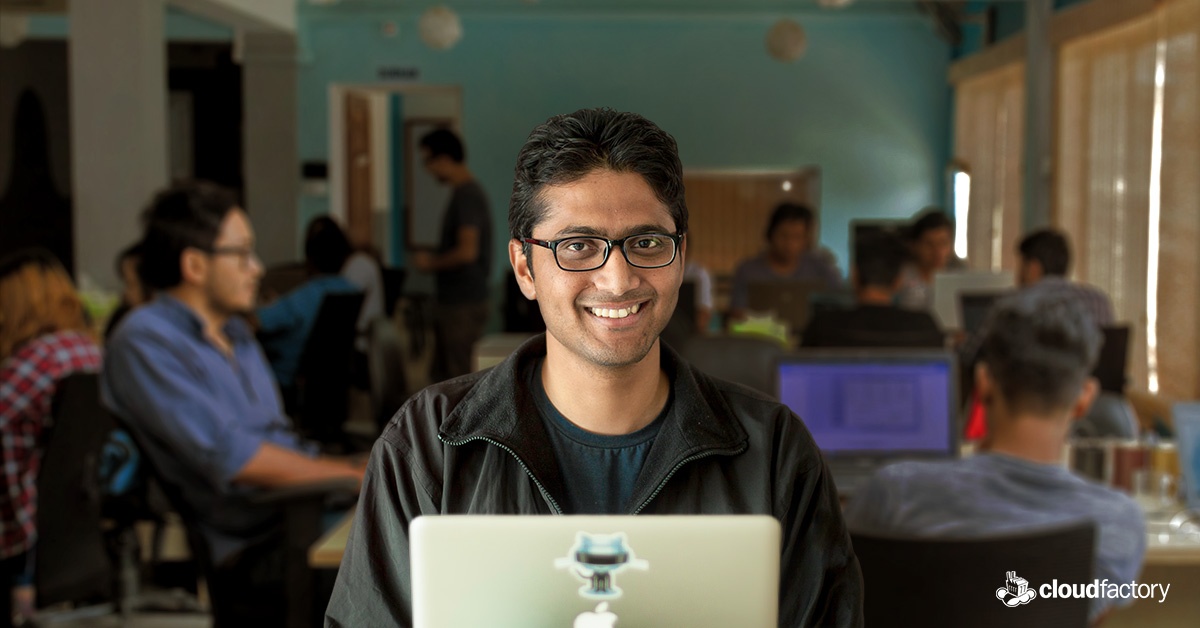 The combination of technology and startup thinking can force us to challenge long-held, collective wisdom. It's a reality in business today that we've seen before, in the bestselling novel-turned-movie Moneyball, a true story about the Oakland Athletics baseball team and its general manager, Billy Beane.
Beane used data to identify that on-base and slugging percentages were better indicators of offensive success than historically valued qualities such as speed and contact. These insights flew in the face of conventional baseball wisdom. He applied data to sabermetrics, or the search for objective knowledge about baseball, to identify and recruit undervalued players. That team bested the New York Yankees, a team with a 65% higher payroll.

Beane harnessed data for a competitive advantage. Moneyball economics changed the way major league baseball teams do business. Today, teams across the country keep sabermetric analysts on staff to wrangle data to generate keen insights and a competitive edge.

Outsourcing has reached a similar crossroads. Also called business process outsourcing (BPO) or offshoring, it's an old model based on labor arbitrage. Primarily deployed as a cost-cutting tool, outsourcing aims to hire, train, and locate as many workers as possible in a building to be deployed on routine, repetitive business tasks.
But only 21% of companies that outsource make innovation a key part of contracting with outsourcing providers, according to Deloitte's 2016 Global Outsourcing Survey. That lack of innovation surfaces in persistent customer experience problems for BPOs over the years: high costs, lack of process control, poor communication, and problems with quality. For decades, companies have thrown their processes over the fence to BPO vendors, simply hoping for high-quality work to come back. When they don't get the quality and process control they need, many face the difficult decision to bring the work back in-house.
To disrupt this model, we (the little guys) had to outthink the big guys. It's how the Oakland A's took on the Yankees. It's how businesses like Xero are taking on industry giants like Intuit. And it's how CloudFactory is outsmarting outsourcing. Here's how we did it.
Think like a startup to extend customers' teams
We challenged established thinking by democratizing information, flattening hierarchies, and taking to the cloud. We manage work in small teams, so workers have the benefit of peer learning and support on the work. Each project has a team lead, and customers communicate directly with that person via closed feedback loops to ensure task iterations, problems, or new use cases are managed quickly. It allows a team to become the customer's team, an extension of their company. It also makes it possible for us to scale up or down quickly, based on each customer's demand.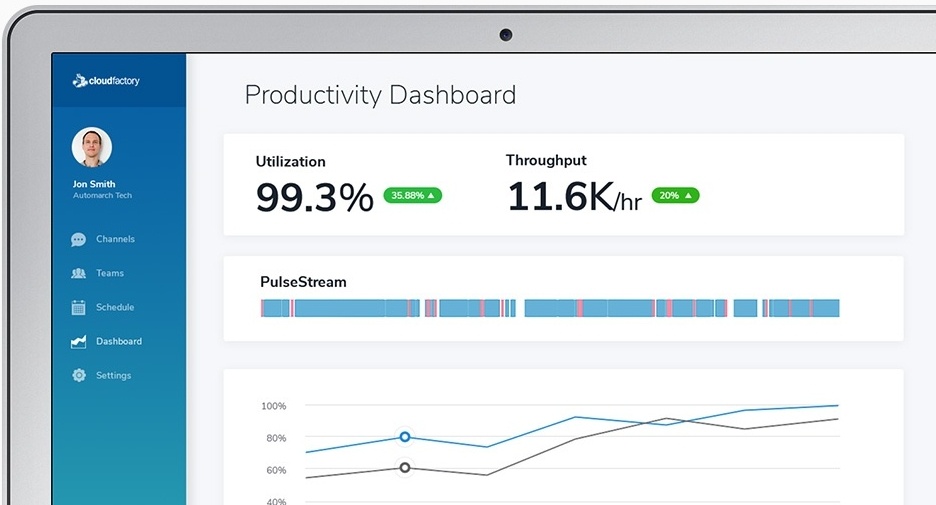 Apply technology
We use our proprietary platform and technologies to lower the cost of delivery and speed the rate of onboarding and change. Customers use the same platform to monitor performance. Workers receive and complete tasks through our custom web browser with quality-control technology built in. Our Pulse dashboard provides real-time information about worker productivity and accuracy. Similar to the Oakland As, we use our "unfair advantage" — data on our workers and the technology — to ensure we field the best team for our customers.
Give customers tooling power
We provide a worker tool but we don't lock customers into using it. CloudFactory workers can use any tool and can learn virtually any process that is repeatable, repetitive, and routine. As a result, our customers maintain control of their tool's features, their data, and their process. They can use standard tools (e.g., spreadsheets), off-the-shelf tooling, or create their own proprietary tool using open source software. Our workers use tools as simple as forms and as complex as 3-D annotation and machine learning.
Know and value each worker as a person
We acknowledge the worker as a whole. That means that first, they are members of their families and communities. We offer workers training, leadership and personal development opportunities, and participation in community service projects. These experiences grow their confidence, work ethic, skills, and upward mobility. Our workers are becoming leaders in their communities and use their CloudFactory income to support their families, further their studies, and start new ventures.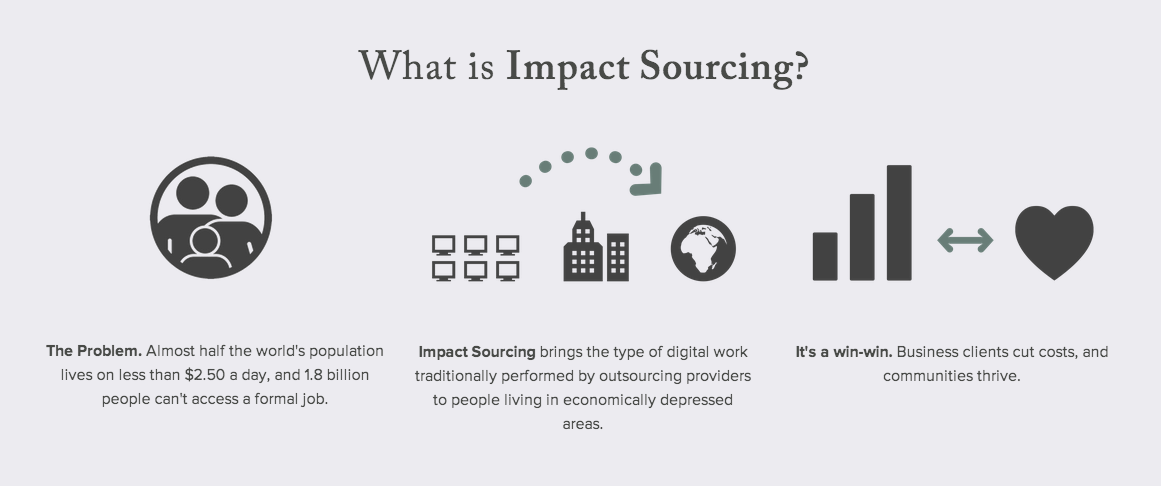 Make a positive change in the world
CloudFactory is an impact sourcing service provider (ISSP) and recipient of a program related investment (PRI) by The Rockefeller Foundation as an acknowledgement of our leadership in impact sourcing. By identifying and providing meaningful work to people whose talent is undervalued in the marketplace, we provide high-quality work to our customers and contribute to the development of technology corridors in these talent-rich areas of the world.
For the last four years, we have surveyed our workers to take a closer look at the difference we could be making in two of the places we have workers: Kathmandu, Nepal and Nairobi, Kenya. On average, workers earn up to 500% what they earned before joining CloudFactory. The vast majority of workers (93%) improved their English and computer skills at CloudFactory. And 91% reported they are happier since working at CloudFactory.
Stay ahead of the curve
Similar to how Billy Beane challenged the gut-intuition and vanity player metrics that drove decisions in baseball, CloudFactory is challenging the outdated outsourcing model. And the timing is right: rapid advancements in technology and upstart thinking are creating a global, distributed workforce.

No longer do companies have to pay premium rates, toss their process to an unknown team, and hope for the best. They don't need to send their enterprise-grade work to an anonymous crowd. And when outsourcing and crowdsourcing don't yield the quality and control they need, they don't have to bring the work back completely in-house.
CloudFactory has outsmarted outsourcing by making it possible for companies to spin up remote teams on demand and use technology to engage and manage known, vetted workers to achieve specific customer goals. This approach gives our workforce the same feel as an in-house team without the cost, pain, or overhead of managing the teams directly.

Just like Beane, we'll have to stay ahead of the curve. As other teams began to mirror Beane's strategies, he began looking for other undervalued skills in players. At CloudFactory, we're taking the same challenger stance. We've kept our eyes on our goals: happy, productive workers and satisfied customers. So far, so good.
Outsourcing Impact Sourcing Culture & Mission Workforce Strategy