CloudFactory has announced a new offering that makes it easy and affordable for startups and fast-growing companies to automate and outsource routine, back-office work through an on-demand workforce.
CloudFactory is at the forefront of this trend by enabling businesses to connect to previously untapped cloud labor pools across the globe who consistently provide high quality results. Their customers connect to CloudFactory's workforcethrough their cloud-based platform that automates certain tasks, monitors worker reputation and manages quality in a way that scales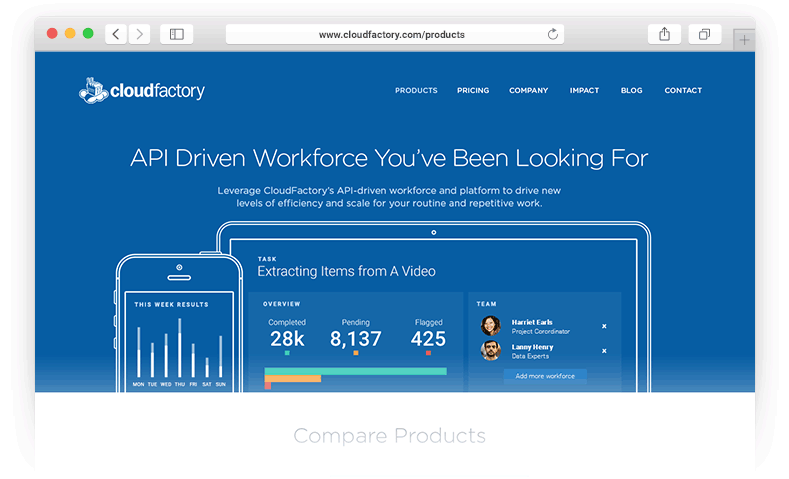 Enterprise Quality Work for Startups and Fast-Growing Companies
"Empowering startups and other fast growing businesses to take advantage of this critical shift in the future of work has been an obsession for us," says Mark Sears, CEO and Founder of CloudFactory. "We see this trend taking hold across many industries now, even those that have been skeptical of the Business Process Outsourcing (BPO) movement." CloudFactory's newest suite of solutions makes the benefits of cloud labor more convenient and affordable, allowing many more businesses to scale their operations faster and smarter by leveraging talent that is vetted, trained and managed by a trusted partner.
Making an Impact
"Ever since we launched CloudFactory in 2012 we have been trying to connect really talented people from around the globe with opportunities for meaningful work. This has been the real strength behind our early success," adds Robina Maharjan, CloudFactory's Director of Global Workforce. "We obsessively seek out talent 'hotspots' that allow us to connect our customers with well educated and highly motivated people ready to contribute to the global economy."
"We believe that talent is equally distributed around the world but opportunity is not," explains Maharjan, who is based in CloudFactory's largest operations center in Kathmandu, Nepal. CloudFactory has been a leader in the Impact Sourcing movement which focuses on hiring people who have limited opportunity for employment. CloudFactory goes beyond this by investing into the personal and professional lives of their workforce, believing that many of them will go on to be the next generation of leaders that make their communities, and their nations better.
"Companies like CloudFactory who embrace Impact Sourcing see higher quality work and better productivity while providing benefits that are tangible and sustainable in alleviating poverty in the developing world," Mamadou Biteye, Managing Director, Kenya Regional Office, Rockefeller Foundation.
Until now, the benefits of BPO have largely been realized by large enterprises who have big budgets and resources to shoulder the burdens of management. Now, with CloudFactory's new product suite, that reality is changing, and, just like other traditional models that have been disrupted, technology is the driving force behind this shift in how businesses get work done.
People, Process or Project?
Customers can now engage with CloudFactory by project, people or process. We'll meet you where you are, and scale as you scale.
See the full press release here.
Startup Impact Sourcing Automation & Back Office Support Adaptive Workforce