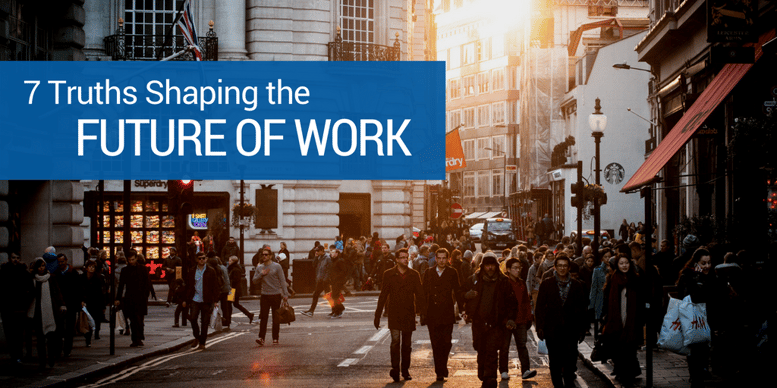 At CloudFactory, we're constantly thinking about the future of work, and how it will impact businesses and workers. No one disputes that the nature of work, and the workforce needed to support it, is shifting in fundamental ways. While we can't predict the future, when we analyze the trends, seven truths stand out as powerful forces shaping the future of work.
1. AI and automation will take some jobs, but also create new ones
The greatest influence on the workforce today is not globalization, but technology and automation. Artificial intelligence has evolved in fundamental ways and will continue disrupting many industries. Yet, the full picture of that disruption is nuanced and complicated. The upfront investment required to develop powerful AI solutions is massive, therefore, while it will continue disrupting the nature of work, its effects may not be as widespread as some fear.
Critics of AI have argued that these technologies will take jobs. While that may be partially true, history shows that it very well could lead to new ones. When you we look at past technologies that were once considered a threat to the human workforce, they often ended up creating jobs instead. Deloitte even conducted a study and examined how technology has affected human employment since 1871. The findings showed that more often than not, technology was a job-creation machine rather than a job killer.

Many theorize that robots won't replace humans. Instead, they will augment human intelligence to help us make more efficient decisions and workflows. The industries that AI and automation will be most prevalent in are those requiring manual labor and low-skilled work, where pay is lower and physical strain and injury risk is higher.
2. Workforces will be distributed across the globe
Because of advances in technology, proximity will be less relevant than ever. Remote working arrangements and freelancing are just a precursor to a seismic shift in how businesses will tap talent. Right now, cloud technology, video calling like Skype and collaboration tools like Slack and Google Docs have made it easier than ever for teams to work effectively from anywhere. Freelance platforms and privately managed, on-demand workforces like CloudFactory's have also made it simpler for businesses to find and connect with talented workers across the globe.
3. The freelance and on-demand workforces will grow
At CloudFactory, we believe that talent is equally distributed, but opportunity is not. Technology has helped even the playing field. By 2020, we'll see over 2 billion new people come online, most of which are from the developing world. There are already around one billion so far, and another billion are expected to join in the next four years. This is a massive shift that brings millions of new workers who earn as little as $2 per day and are hungry to benefit from a flatter world and more connected global economy.

The distributed nature of work is also supported by the growing value that workers place on flexibility in the workplace. In fact, 40% of people believe that traditional forms of employment won't be available in the future. This is an important trend that is significantly shaping the future of work. While many businesses and workers find value in the flexibility of freelance work, it comes with challenges. Businesses and policymakers will need to create the requisite infrastructure for a very different future, but this trend is here to stay.
4. Platforms will be ubiquitous, and incredibly important
The impact of work platforms is immense. Sadly, in many areas of the world, people struggle to find work that can support them and their families. Often, opportunities simply don't exist in their region even if an individual possesses the proper skills. There are also industries like modern manufacturing, technology and healthcare that struggle to find skilled workers to fill roles.

Platforms and cloud labor providers like CloudFactory can help address both skill and resource shortages by building the infrastructure for the world's workforce. McKinsey Global Institute reports that worldwide 30 to 45 percent of the working-age population is unemployed, inactive or only part-time. As cloud labor providers and their respective platforms help connect skilled workers to businesses in need of talent, it could add $2.7 trillion to the global GDP in the next 10 years. The rise of the freelance economy could help solve hiring issues for businesses while also providing meaningful work that allows people to contribute and provide for their families, regardless of their location.
5. Businesses will think differently about staffing for scale
When some businesses talk about scaling, they immediately think about how they'll staff in-house. In the coming years, that view will change drastically. It's already shifting as a more agile startup culture and fierce competition are forcing companies of all sizes to scale faster, leaner and smarter.

Technology has helped improve the process of hiring outside individuals or teams for particular types of work. There will always be a need for strategic, core functions to remain in-house, but there are many types of routine work that could be better managed far more cost-efficiently by offloading it to a partner that focuses on hiring, training and managing specialized labor pools.

6. Job-hopping will remain and hiring processes will need to change
The traditional hiring process can be time-consuming, expensive, and in many cases, is not effective in selecting the right candidates for the job. Even if you do hire the right employee, statistics show that they won't be with you for long. One or two years is the new norm. According to a study by LinkedIn, most young, college graduates in the U.S. will switch jobs 4 times before they are 32.

Increasingly, people are job-hopping instead of sticking with a company for most of their career. Flexibility and opportunities for development are valued more than ever. However, even with a company that embraces those values in their culture, people are still shopping around for the next opportunity.
7. Outsourcing will be more important than ever, but it will need to be much smarter
For many businesses to remain competitive and survive, they will have to incorporate outsourcing into their processes. Innovative companies will tap into the global talent pools in order to grow successfully. In fact, according to a PricewaterhouseCoopers report (PwC), 46% of recruiters expect that by 2020, over 20% of their workforce will be made up of freelancers and temporary workers. The real question is not if businesses will outsource, but how outsourcing will be made smarter. Traditional BPO companies have simply not kept up with the technological landscape, while platforms have stepped into the breach. Technology that tracks time and provides transparency in the form of ratings and reviews is a good start, but imagine a provider that uses AI to predict work quality and address issues before they ever impact the customer. That's exactly what CloudFactory is bringing to the market with our WorkStream offering.

Every business will need core, strategic functions in-house. Businesses also need to consider routine, non-strategic work and how they'll get that done. There is increasing value in services that provide the infrastructure for vetting, training and managing global workers so businesses can focus their in-house efforts on strategic work that fuels innovation and growth.

In order to meet the growing demands of tomorrow's workforce, CloudFactory is focused on shaping how we work today. Talent is not exclusive to one culture or area of the world. With the right support and infrastructure, young, skilled professionals can be found anywhere in the world. To learn more about how you can prepare for the future workforce and how CloudFactory can help, hit us up, we'd love to talk!